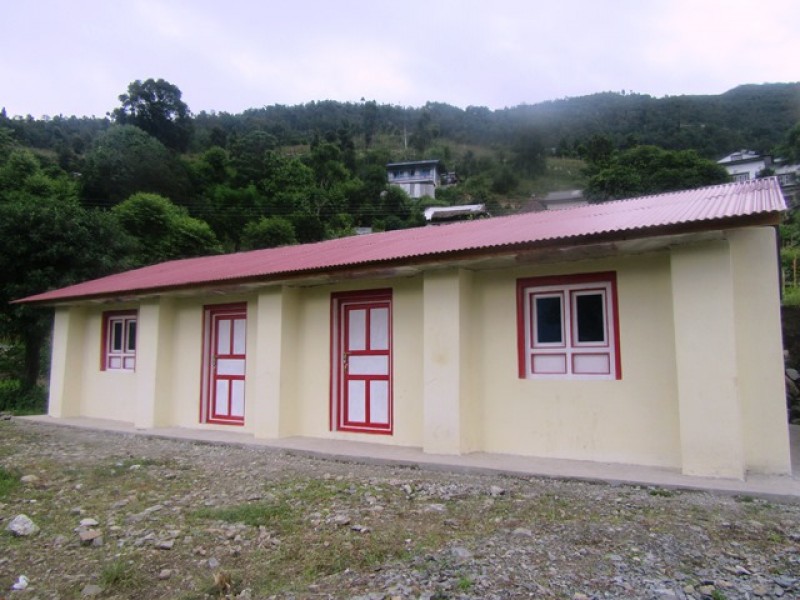 Gender Friendly Schools for Children
The project, since January 2019 for 3 years, was implemented in in Mapya Dudhkoshi Rural Municipality of Solukhumbu District in financial support of Help Alliance in cooperation with Eco Himal Austria.
The overall objective of the project was to support post-earthquake reconstruction and rehabilitation mission of Government of Nepal .
Following 5 rural schools have been equipped with 2 roomed seismic resilience buildings in accordance to the design and specifications approved from Government of Nepal. 1.Kaku Secondary School 2. Jubing Secondary School 3. Naba Pragati Basic School 4. Sagarmatha Basic School and 5. Sagarmatha Secondary School. The availability of new buildings ensured safe learning environment of rural children. All schools are class rooms are supported with furniture (desk/benches 140 sets), white board. Similarly, recreational materials are provided for early child development class for quality education. The children are utilizing the materials and have been involved in recreational activities.
Gender friendly toilet (GFT) with hand washing facilities constructed in 4 schools; Jubing Secondary School, Sagarmatha Basic School, Sagarmatha Secondary School and Naba Pragati basic school. The basic measures considered in the gender sensitivity toilets are a separate chamber for girls and washing facilities with clean water.
Resting rooms (RR) as private space to the girls for rest, change cloths and a resource center for recreation established in secondary schools ensuring safety and privacy of adolescent girls during their menstruation period and a place for transformation of knowledge and awareness through and among girls.